Keeping outdoor properties neat and trim is a little easier when Goodyear Lawn & Garden Belts are driving the job. Engineered specifically for the demands of busy crews with no time for unscheduled equipment down time. Goodyear Belts fight heat, oil and friction that can lead to problems with equipment drive systems.
LAWN AND GARDEN EQUIPMENT V-BELTS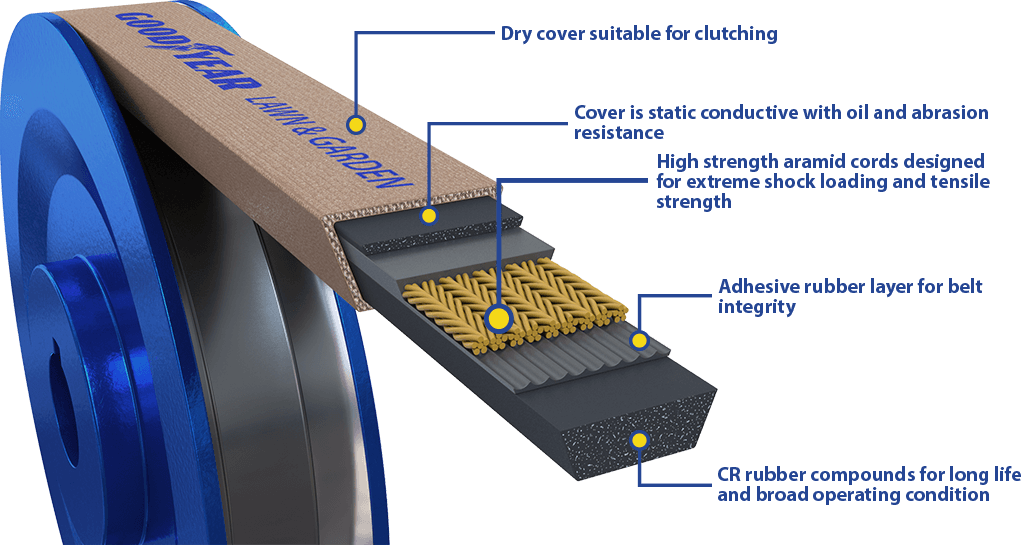 Goodyear Belts has developed Lawn & Garden V-Belts that offer premium performance, providing a long service life. Restore your equipment's belt drive system's performance by installing a new Goodyear Belt.
Clear branding
Broad range of sizes to cover your application requirements
Highly engineered construction for durable life
Designed to operate in extreme conditions
Parts Specifications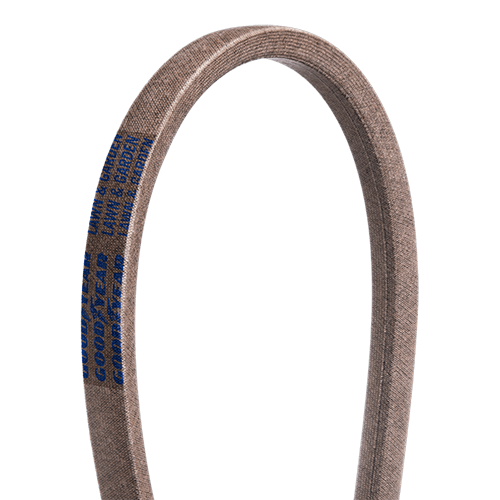 GOODYEAR V-BELTS WARRANTY INFORMATION
Standard: Limited One Year Warranty
Products are warranted to be free from defects in materials and workmanship under ordinary use and conditions, for a period of one (1) year from the date of purchase. Any product that is proved to be defective during the one (1) year warranty period will be replaced. This warranty is void if the product defect is caused by improper use, improper installation, improper repairs or modifications of the product by a non-authorized servicer, or the failure of an associated part, not supplied or under warranty. There is no warranty or guaranty for claims associated with labor or alleged damages that may have been incurred from a product failure. This one (1) year limited warranty for replacement of the defective product is the sole remedy for breach of warranty. TO THE EXTENT ALLOWED BY APPLICABLE LAW, ALL OTHER WARRANTIES, EXPRESSED OR IMPLIED, INCLUDING, BUT NOT LIMITED TO, WARRANTY OF MERCHANTABILITY OR FITNESS FOR A PARTICULAR PURPOSE ARE EXPRESSLY DISCLAIMED. In no event will Adventry Corp, its employees or suppliers be liable either directly or by way of indemnification to the extent permitted by applicable law, for product defect(s) resulting from the failure to replace products in a routine maintenance interval as specified by the original equipment manufacturer.

All claims must be submitted in writing within thirty (30) days of discovery of the defect, show proof of purchase, and include the defective part for replacement. ADVENTRY CORP DOES NOT WARRANT OR RECOMMEND ITS PRODUCTS FOR USE IN MANNED OR UNMANNED AVIATION OR LIFE SUPPORT APPLICATIONS.

This limited warranty gives you specific legal rights. You may have other rights, which vary from state to state.